Since 1995, an increasing number of Indonesian citizens are moving from rural Indonesia into the urban cities, like Jakarta. By 2025 it is estimated that 68 percent of Indonesia's population will be living in these urban cities, that are expanding at a rate of 4.1 percent per year. While the rapid urbanization is changing the once rural economy into an urban economy, which opens the doors to more foreign investments, the toll of rapid urbanization is becoming increasingly apparent. Traffic congestion has worsened, leading to increasing pollution and making many Indonesian citizens vulnerable to poverty, and the central government has neglected the infrastructure of the major cities.
Source: Indonesia Investments
Recently, many impoverished Indonesians that have no or very little education are moving to urban cities in hopes that they may obtain jobs to better their families lives. The downside is that Indonesia's heavily populated urban cities are failing to provide jobs for the city newcomers, causing Indonesia's urban poverty and unemployment rates to rise. This comes as a shock after Indonesia's central government created more than 20 million jobs between 2001-2011. In fact, city dwellers that do manage to obtain a job making twice as much money compared with their rural counterparts, according to the Central Statistics Agency. Of course, many new coming city dwellers have become vulnerable to poverty because of the worsening traffic congestion in cities like Jakarta and the lack of funding for bettering infrastructure. The president of Meikarta, an architectural innovations company, said, "Today, people typically spend three to four hours a day [in traffic], wasting precious fuel and adding to air pollution. This makes workers less productive." His company along with many others are aiming to provide affordable housing to around a million workers in the area, hopefully raising productivity and bringing many people out of poverty.
Source: City Metric
Aside from increasing pollution and traffic congestion, as a result of urbanization, a lack of investment in Indonesian infrastructure also plagues the increasing population densities of urban cities. Although the Indonesian government has been raising its infrastructure development budget significantly since 2014, the central government does not have enough financial means to finance all the required infrastructure developments across the country, specifically in the growing cities. Because of the central government's low financials, private participation in the nation's infrastructure development, by foreign investors, is needed. A report by the World Bank entitled "Indonesia's Urban Story," noted, "The quality of urban infrastructure is poor in Indonesia, and access to basic services, such as clean water, sanitation, electricity, and transportation, has remained generally limited and not well distributed." It has become increasingly apparent that the size of the urban infrastructure deficit is constraining Indonesia's urban cities. Indonesia's private sector is trying to battle against the underinvestment in infrastructure by building entirely new, cheap urban developments near sprawling manufacturing areas, allowing families to save money on both transportation and housing.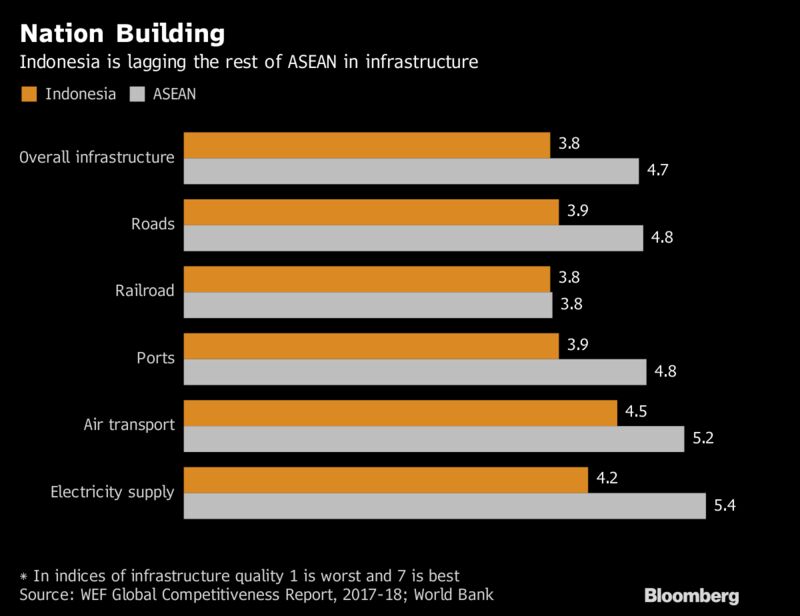 Source: Bloomberg
As urbanization rapidly rises in Indonesia the urban population is quickly increasing as the rural population continues to shrink. Although Indonesia is transitioning into an urban country, pollution, traffic congestion, and underinvestment in infrastructure continue to plague Indonesia's urban cities.